Meet Tricia Lawler, MSN, APRN, FNP-C
Tricia Lawler is a board-certified nurse practitioner who has dedicated her career to helping men and women enhance whole body health with integrative therapies and techniques after working for years in family medicine. Tricia's lifelong passion for medicine began while she was living in South America, where witnessing many who were medically underserved drove her to help people with her knowledge. Her strong desire to help each individual patient walk their own unique path to wellness continues to push Tricia forward as a highly-trained preventive medicine practitioner at EVEXIAS Medical Centers. 
After graduating from Baylor University with a Master of Science degree from the Family Nurse Practitioner Program in 2004, Tricia immediately put her education and training to work as a family nurse practitioner at an internal medicine family practice that specialized in treating the medically underserved. In her role at various family medicine practices over the course of a decade, Tricia performed a wide array of physicals, screenings and immunizations. Tricia also became familiar with the diagnosis and reactive management of chronic illness, which piqued her interest in the more proactive nature of integrative medicine.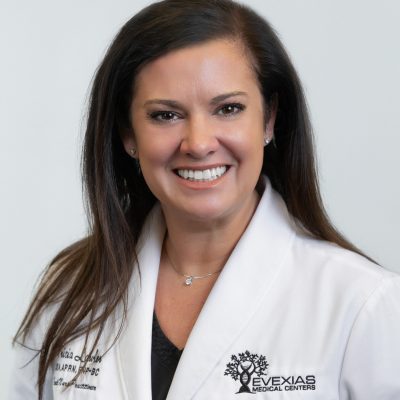 Tricia Lawler
MSN, APRN, FNP-C
In 2016, Tricia was able to apply her passionate interest in preventive medicine when she began working as a family nurse practitioner at a collaborative wellness practice. In this capacity, Tricia was able to help patients by analyzing their symptoms and diagnostic information before deciding the best ways to address their unique hormonal imbalances. At that point, she could help each patient on their individual wellness journey by providing them with the latest integrative medical and aesthetic therapies that included bioidentical hormone pellets, Botox and dermal fillers.
Working at EVEXIAS Medical Centers has afforded Tricia the opportunity to work more closely with each patient on their path to whole body health in a relationship that she treasures as a true partnership. By sharing her passion and knowledge for integrative medicine, Tricia feels that she can give men and women the best way to optimize their overall wellness and reduce the risk of chronic illness.
Outside of the office, Tricia is an avid runner and cyclist. She has competed in various triathlons and races, even winning some of her age group divisions. Tricia has also volunteered for over 20 medical missions throughout the US, Mexico, Central America and South America.
Want to book an appointment with Tricia?
Contact the EVEXIAS location nearest to you to schedule a consultation. Tricia can help you weigh options and recommend a suitable treatment plan.