DIM 150 is a nutraceutical that combines the estrogen-balancing properties of diindolylmethane (DIM) with the potent antioxidant capabilities of vitamin E to promote healthy estrogen levels and overall wellness. By supporting proper estrogen metabolism, DIM 150 can help the body with a number of critical processes, including proper bone health, sexual function, energy levels, and cardiovascular function.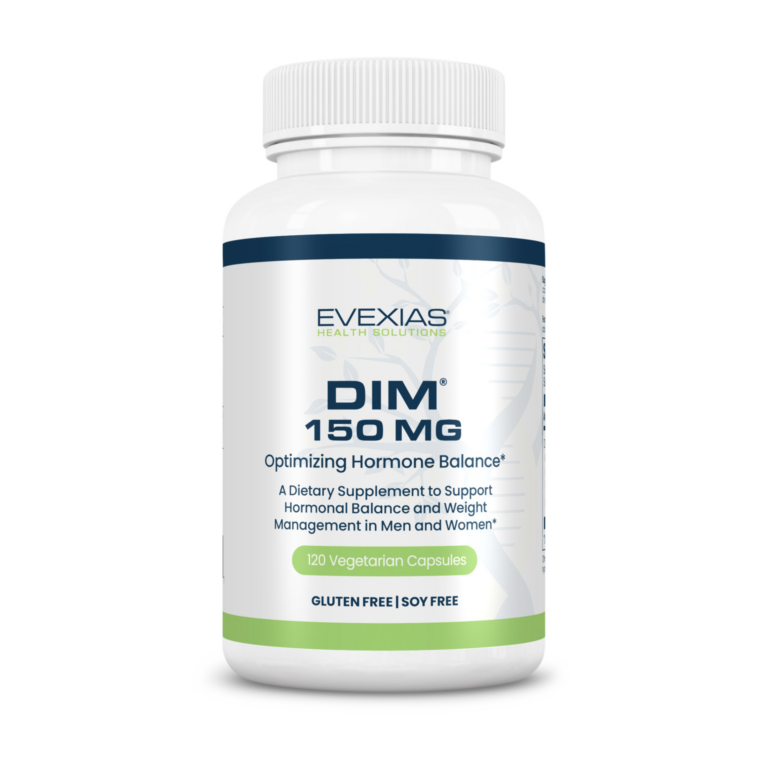 Diindolylmethane (DIM) is a naturally-occurring compound in the body that results from the breaking down of the compound known as indole-3-carbinol that is found in cruciferous vegetables like cauliflower and broccoli. By assisting the body in estrogen metabolism, DIM can help reduce the risk of serious health conditions like cardiovascular disease and osteoporosis.
Vitamin E does not describe just one single vitamin. Instead, the term "vitamin E" actually describes a class of fat-soluble antioxidant compounds. Not only do these antioxidant properties help the body respond to and protect itself from oxidative stress and damage, but they can also support proper immune function and healthy skin as well. In addition to its antioxidant properties, vitamin E also supports healthy vision and cognitive function.
DIM 150 has been developed to support healthy estrogen levels and enhanced overall wellness with a potent combination of diindolylmethane (DIM) and vitamin E. DIM, a compound that results from a chemical reaction that occurs in the body as it breaks down cruciferous vegetables like kale and broccoli, has long been recognized for its ability to help the body regulate proper estrogen levels through proper estrogen metabolism. When combined with a powerful antioxidant like vitamin E, DIM has the potential to make a positive impact on whole body health and reduce the risk of more serious estrogen-related health conditions like osteoporosis and cardiovascular disease.
Most of the symptoms associated with women aging can be attributed to the declining estrogen levels associated with menopause. Here are just some of the symptoms women may experience while struggling with chronically-low estrogen levels:
Any number of these symptoms can negatively affect overall wellness. With its ability to help manage healthy estrogen levels and address both oxidative stress and damage, DIM 150 has been designed to enhance whole body health and immune function. 
While eating cruciferous vegetables does supply the body with DIM, it would likely not be enough to sufficiently enhance the production of estrogen. Balancing estrogen levels can begin to address many symptoms of menopause and aging, as well as support proper overall function of the body. In doing so, balanced estrogen levels can also reduce the risk of more serious health conditions like osteoporosis and cardiovascular disease.
Oxidative stress, which happens when there is an excess of free radical oxidants in the body, can also lead to a number of serious health issues and conditions over time that include:
Vitamin E is one of the most widely-recognized antioxidants and is essential to the proper function and overall wellness of the body. While vitamin E deficiencies are rare due to the amount of different foods that contain the micronutrient, it is still crucial to supplement the body with this vital antioxidant when possible. Stocking the body with potent antioxidants can help support healthy immune response, and cases of vitamin E toxicity due to supplementation are extremely rare.
Both low estrogen levels and oxidative stress are often at the root of many health issues. With its estrogenic and antioxidant properties, DIM 150 can be a critical puzzle piece when used in tandem with healthy lifestyle management and more advanced therapies when necessary. At EVEXIAS Medical Centers, some of the most highly-trained integrative medicine practitioners in the country can help enhance whole body health and overall wellness with a wide variety of solutions that include professional grade nutraceuticals, lifestyle management assistance and EvexiPEL hormone pellet therapy. With so many options out there for integrative medicine solutions, the experts at EVEXIAS Medical Centers can help sift through the noise and come up with the best approach.