Meet Sondra Bell, MSN, APRN-CNP, FNP-C
Sondra Bell is a board–certified family nurse practitioner who has spent decades working in healthcare from multiple angles, including pediatric, family and geriatric care. After shifting towards preventive and anti–aging healthcare, Sondra has used her well–rounded medical background to help her guide patients towards optimal results.
Sondra began her lifelong dream of a fulfilling career in healthcare by working as a medical assistant during nursing school. Even though Sondra's training and early work in medicine was very well–rounded, she spent most of her nursing career working in the pediatric trauma ICU at various children's medical centers. She is especially proud of the time she spent as a Team Leader of the ICU, because this position allowed Sondra to implement policies that made a real difference by lowering infection rates in that unit.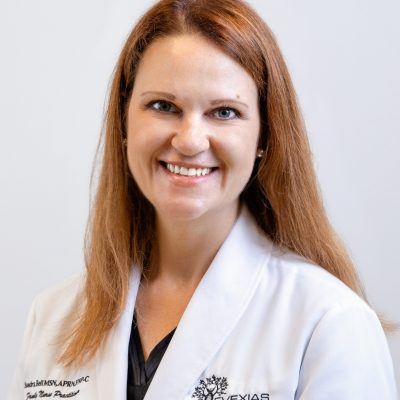 Sondra Bell
MSN, APRN-CNP, FNP-C
While Sondra enjoyed her time working in family and children's medicine, it was this strong desire to make a tangible difference in the lives of her patients that eventually led her to make the shift to integrative healthcare. Building a career in preventive medicine has allowed Sondra to consult with patients and assist them in a more individualized setting, so she feels more free to listen to how each patient is feeling when trying to analyze data from testing instead of solely looking at numbers through a narrow lens. 
Starting in 2021, Sondra began to work as an integrative medicine practitioner at EVEXIAS Medical Centers in Southlake, Texas. In this role, she has honed her skills in administering the various forms of bioidentical hormone replacement therapy (BHRT), including pellets, creams and injections. Having the opportunity to consult with patients on a much more personal, individualized level has allowed Sondra to really see the
positive changes she has made in their lives. She wants people to know that they should be able to enjoy their lives regardless of their age. Sondra also wants to help people realize that they don't have to accept the symptoms of hormonal imbalance as a part of the aging process that just has to be tolerated. With this mindset driving her work as an integrative healthcare practitioner, Sondra is excited to help patients of all ages to
enjoy greater vitality and enhanced overall wellness. 
When she is not in the office consulting with patients or analyzing lab results, Sondra likes to enhance her own physical and mental health by practicing yoga and meditating.
Want to book an appointment with Sondra?
Contact the EVEXIAS location nearest to you to schedule a consultation. Kelly will help you weigh options and recommend a suitable treatment plan.