Meet Kelly Wedel, MSN, APRN, AGACNP-BC
Kelly Wedel is a board-certified adult-gerontological acute nurse practitioner with nearly two full decades of experience as a registered nurse. Kelly is an active critical care nurse in the U..S. Army Reserve, and she has recently worked as an ER nurse, an ICU/critical care nurse practitioner and a flight nurse in air medical transports. After spending years treating and reacting to patients' healthcare needs as they occurred, Kelly is excited to take a more preventative approach to healthcare needs as they occurred, Kelly is excited to take a more preventative approach to healthcare so that she can help patients live with better energy, vitality and overall wellness.
After working for years in corporate marketing, Kelly wanted to help people and get more satisfaction out of her work. Coming from a family of healthcare professionals, Kelly decided that working in nursing would be the perfect way to help people and enjoy a fulfilling career. She received her Bachelor of Science in Nursing from Regis University in Denver and completed her Critical Care and Trauma Nurse Internship at Parkland Health and Hospital System before hitting the ground running as an ER nurse.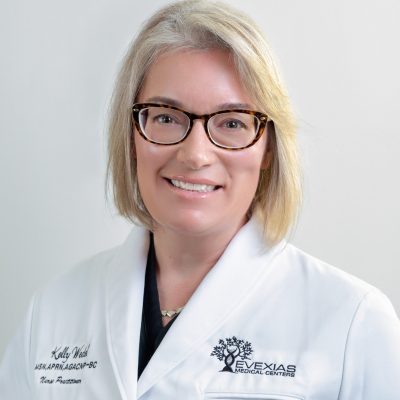 Kelly Wedel
MSN, APRN, AGACNP-BC
Over the course of the next decade, Kelly worked in a number of different locations as an ER nurse, an ICU nurse and a flight nurse. In fact, she considers the ten years she spent as a flight nurse as a career highlight and one of her favorite jobs. Yet, working so much in the ICU and ER also gave Kelly an up-close look at the results of poor diet and lifestyle management. She witnessed how health and wellness become an uphill battle with poor nutrition.
This desire to look at medicine from a different angle ultimately led Kelly to become an EVEXIAS patient. By being and EVEXIAS patient led her to having a better understanding of all the different ways hormonal balance affects overall health. She could see that balancing hormones had the potential to get to the root of a lot of problems, sometimes before they have the chance to start.
After receiving her Masters of Science in Nursing (Adult and Gerontological Acute Care Nurse Practitioner) from the University of Texas at El Paso in 2021, Kelly is looking forward to providing patients with high-quality care and educating them about the connections between hormonal balance and overall wellness. Having been an EVEXIAS patient for 5 years, she understands how each patient feels when they first sit down for an office visit. Kelly also knows first-hand how great you can feel after finding hormonal balance, so she feels like she is the perfect person to help anxious patients at ease as they embark on the path to optimal health and wellness.
When Kelly isn't seeing patients, she enjoys spending time with her horses. She also enjoys team roping and has even won some buckles.
Want to book an appointment with Kelly?
Contact the EVEXIAS location nearest to you to schedule a consultation. Kelly will help you weigh options and recommend a suitable treatment plan.