Meet Kayla Knight, LVN, LHRS Nurse Injector
Kayla Knight is a licensed nurse with a desire to help people to look and feel their best through the evolving field of aesthetic therapy. Having spent years working with traditional and aesthetic therapies gives Kayla a well-rounded base to perform a variety of aesthetic procedures at a high level, and EVEXIAS Medical Centers gives her a way to combine her passions for cosmetics and nursing.
After graduating early from high school in the top ten percent of her class at just seventeen years old, Kayla went straight to Hill College and immediately started taking pre-requisites for the nursing program. Upon graduating in 2006, she experienced working in a number of different settings for traditional medicine, including a hospital, family medicine practice and a dementia lockdown unit in a nursing home.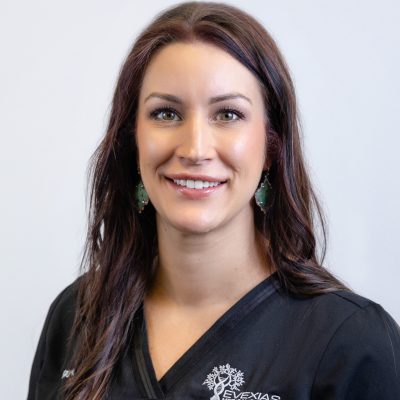 Kayla Knight
LVN, LHRS Nurse Injector
Eventually, Kayla decided that she wanted to work at a specialty clinic, so she found a job at an Ear, Nose and Throat (ENT) clinic. She really enjoyed working as an ENT nurse and would go on to work at a different ENT clinic in 2013 that also offered facial plastic surgery. During this time, she was able to train on injections, lasers and chemical peels. Kayla initially saw this training as a bonus to working at the ENT clinic, where she remained for six years. However, Kayla eventually realized that working in aesthetic medicine afforded her the opportunity to combine her two greatest passions: cosmetics and nursing.
In 2020, Kayla started working at EVEXIAS Medical Centers so that she could apply her years of training and tap into her enthusiasm for helping people find their confidence and feel their best. Kayla strongly believes that everyone can age gracefully by enhancing their natural beauty, and she has trained tirelessly in many areas of aesthetic medicine, including laser hair removal, IPL, CO2 resurfacing laser, vaginal rejuvenation with FemTouch laser and lasers for vein and tattoo removal. Kayla is fulfilling a lifelong dream of working as a nurse in the cosmetic field, and she is just beginning to scratch the surface of the skills and enthusiasm she can contribute to EVEXIAS Medical Centers as they continue to grow.
Want to book an appointment with Kayla?
Contact the EVEXIAS location nearest to you to schedule a consultation. Kelly can help you weigh options and recommend a suitable treatment plan.