Meet Katelyn McCormack, RN, BSN, PHN, Injector
Katelyn McCormack is a certified public health nurse who has spent more than a decade immersed in aesthetic and preventive medicine. After spending years working in traditional medicine, Katelyn wanted to help people optimize their health and overall wellness through integrative lifestyle management techniques that she herself was starting to adopt. Her passion for healthcare combined with a desire to help patients reach optimal outcomes through a more educational and personal approach makes Katelyn a perfect fit for helping EVEXIAS Medical Centers continue to grow for years to come.
Katelyn's lifelong passion for healthcare goes all the way back to her mother, who was also a nurse. While she didn't initially know which area of healthcare she wanted to pursue, Katelyn just knew that she wanted to follow her mother's footsteps by helping people and making a difference in their lives. She began her journey by working as a physical therapy aide while completing her degree in Kinesiology at California Polytechnic State University–San Luis Obispo.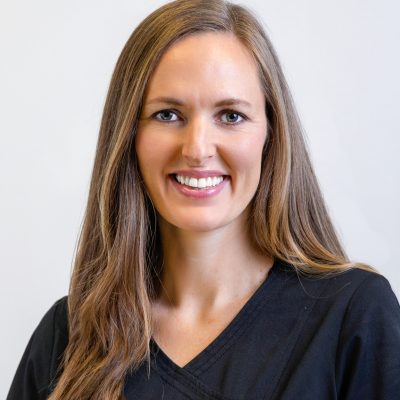 Katelyn McCormack
RN, BSN, PHN, Injector
After graduating Magna cum Laude from National University in Los Angeles and earning her nursing degree in 2012, Katelyn had a decision to make. She had grown disenchanted with the approach of traditional medicine that valued efficiency and profits over carefully analyzing the best approach for each individual patient. Katelyn recognized the impact that big pharmaceutical companies and their advertising dollars
were having on healthcare as a whole, and she quickly began to question everything about traditional medicine and traditional lifestyle management.
It was then Katelyn's sister who began to open her eyes to the world of aesthetic medicine. Katelyn loved the idea of working in a field that better allowed her to be creative and have fun, so she went to work as the lead nurse at a plastic surgery facility for several years. At the same time, she started to dig further into preventive healthcare. Katelyn quickly learned that this path would allow her patients to better understand and possibly avoid certain health conditions and symptoms that are often attributed to the natural aging process. She could now educate patients on the causes of many of these issues and reinforce the value of optimizing whole body health. Katelyn always wants her patients to realize that when they know better, they do better. Increased knowledge about integrative medicine can help them make better, more informed decisions.
When she isn't helping patients feel like their best selves, Katelyn likes to spend time sharing her knowledge of preventive healthcare with the greater public. Katelyn has either fully authored or contributed to multiple books, spoken at conferences and appeared on a podcast to help educate people about the benefits of optimizing health at the root level.
Want to book an appointment with Katelyn?
Contact the EVEXIAS location nearest to you to schedule a consultation. Kelly will help you weigh options and recommend a suitable treatment plan.