Meet Dr. Terri DeNeui, DNP, APRN, ACNP-BC
Founder Dr. Terri DeNeui
DNP, APRN, ACNP-BC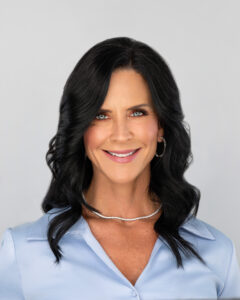 Speaker, Author, and Board-Certified Nurse Practitioner, Dr. Terri DeNeui, has extensive training in her field. She earned her B.A in Nursing from Texas Woman's University and her Master's and Doctoral degrees at UT Arlington. In addition to her training in acute and emergency medicine, she has extended her education to include certifications in Preventative Wellness Medicine, Functional Medicine and Hormone Replacement Therapy.
In 2008, Dr. Terri began Hormonal Health & Wellness Centers, now Evexias Medical Centers, to meet the unique age management needs of adults who have not found relief with traditional medicine. Terri and her team of 5 Board Certified Nurse Practitioners have treated over 15,000 women and men in the area of hormone restoration and prevention of disease through a functional, integrated approach, and are positively affecting lives on a daily basis. In 2012 Dr. Terri co-founded BioTE Medical, a company focused on training practitioners across the country on advanced age management skills, including hormone homeostasis with subcutaneous hormone pellet therapy. Her 3-year tenure with the company afforded her the opportunity to develop and present lectures, training protocols and train over 1,000 practitioners across the country. Additionally, during her tenure with BioTE, Terri designed and established processes for a 4000-square foot, 8-bed research and hands-on training facility that is utilized to this day.
Her passion for speaking and educating has earned her accolades across the country and invitations to write columns and speak in various settings, including television, radio, medical conferences and seminars across the country. Speaking nationally to professionals and laypersons alike on the importance of natural hormone restoration and balance and its effects on the aging process, Dr. DeNeui has introduced life-changing technologies to those who need it.
Taking her commitment for training practitioners in the art and science of integrated hormone therapies, Dr. DeNeui founded EVEXIAS Health Solutions in March 2018 alongside her husband, Dan DeNeui, with the hormone pellet method EvexiPEL being their first service launched into the marketplace.
Evexias was founded on the belief of taking an integrated approach to wellness that combines education and the complete evaluation of the individual rather than just a specific problem they may present with.
Dr. Terri DeNeui lives in the Dallas / Ft. Worth Metroplex with her husband Dan and two dogs, Bodie and Bella. Their family of 7 children and  grandchildren also live in the area and are never too far from home.
Contact the EVEXIAS location nearest you to schedule a consultation with one of our knowledgeable healthcare practitioners.
We can help you weigh options and recommend a suitable treatment plan.