Dysport vs Botox: What's the Difference?
Botox® just celebrated its 20th anniversary as the first botulinum toxin A injectable approved by the FDA to treat fine lines and wrinkles. Dysport®, another botulinum toxin A injectable, gained FDA approval in 2009 for the treatment of frown lines. While these two injectables serve similar aesthetic purposes, comparing Botox vs Dysport is a good idea because the two products have different formulations and benefits.
What is Dysport vs Botox?
As noted above, both Dysport and Botox are botulinum toxin A injectables. Botulinum toxin A is a neurotoxin that may be safely used in small doses to block the muscle contractions that form wrinkles. Unlike cosmetic surgery, getting Dysport or Botox injections is non-invasive and the procedure can be performed in a health practitioner's office. 
In regard to the Dysport versus Botox difference, while the two products contain the same active ingredient (botulinum toxin A), they are formulated differently because each has a different kind of protein attached to the botulinum toxin A molecule.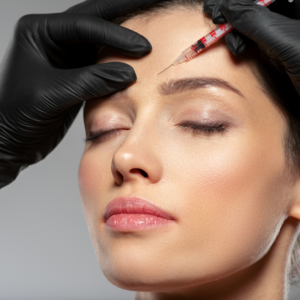 The different protein used in Dysport allows it to diffuse further and spread more, which is why our practitioners often prefer to use Dysport to treat larger areas, including the forehead and moderate to severe frown lines between the eyebrows, also known as the number 11s or glabellar folds.
Since Botox doesn't disperse like Dysport does, it works well for smaller treatment areas like crow's feet, and lip lines, as well as frown lines, forehead lines and other fines lines and wrinkles. A practitioner can help you weigh the pros and cons of Dysport vs Botox, and depending on your needs, may recommend one or both products to help you meet your unique aesthetic goals.
Dysport vs Botox side effects
In terms of Botox vs Dysport side effects, you can expect similar side effects from both treatments. While botulinum toxin A cosmetic injections are considered one of the safest and the most common cosmetic procedures performed in the US, you may experience minor, short-term side effects following the procedure, including:
Slight pain at the injection site.
Redness
Swelling
Bruising
Drooping eyelids.
Dryness when injected near the eyes.
Headache
As with any medical procedure, botulinum toxin A injections do come with risks. When you're comparing Dysport versus Botox with your practitioner, she can explain potential risks and help you decide whether you're a good candidate for the procedure.
Is there a difference between the Botox versus Dysport procedures and results?
There is generally no Dysport versus Botox difference when it comes to how the procedure is performed. A practitioner or licensed aesthetician applies a numbing cream to the injection site, and typically performs multiple injections to treat the area of concern. The entire procedure—whether its Botox vs. Dysport—usually takes between 15 to 30 minutes, which is why many patients pop in on their lunch breaks for these popular wrinkle treatments.
In terms of the results of Dysport injections vs Botox, you may see results with Dysport more quickly, in as little as 2-3 days, whereas it can take up to a week to see results following Botox injections. The duration of results for Dysport vs Botox is similar. You can expect results to last around 4 months, with that time extending to as long as 6 months after repeated treatments.
Is there a difference between Dysport vs Botox cost?
As previously, noted Dysport and Botox formulations are different, with Botox being more concentrated than Dysport. That's why there will be a difference in the number of Dysport versus Botox units you would need to purchase for your procedure. Generally, you'll need to purchase 3 units of Dysport for every 1 unit of Botox.
When comparing the cost of Dysport versus Botox and calculating the number of Dysport versus Botox units, you'll typically find the cost is about the same for each. The most important thing to consider is whether one formulation or both will work best for your particular aesthetic needs.
For our patients who live near us in Texas, you may also be interested to know what the average cost and price range of Dysport and Botox is in our state. Prices do vary from state to state, and according to a survey by Real Self, the average price of Botox in Texas is $416, with prices for Botox ranging from $200 to $769 per procedure.
Keep in mind, you get what you pay for when purchasing aesthetic services. That's why it's important to find an experienced practitioner or aesthetician to handle your Botox and Dysport procedures. Experienced injectors know how best to place the injections both for safety and aesthetic purposes, so don't choose a clinic based on price alone. Checking Dysport versus Botox reviews for providers is a great place to start.
Contact us to find out whether Botox vs Dysport may be a good fit for you!
If you live near our Southlake or Rockwall, Texas clinics, please contact us to schedule an aesthetic consultation today. We can help you weigh the pros and cons of Dysport vs Botox to determine which treatment makes the most sense for you.
Contact the EVEXIAS location nearest you to schedule a consultation with one of our knowledgeable healthcare practitioners.
We can help you weigh options and recommend a suitable treatment plan.